Introduction of PPC Dust Collector

PPC Type air box pulse bag filter with a total of four series of 33 kinds of specifications, the filter area from 93 m² to 4361 m², with air volume from 69000-314000 m³/h, widely used in building materials, cement, metallurgy, machinery, chemical and refractory industry. Specially used for cement grinding, crushing, drying, coal powder, packing, library, such as the clinker cooler dust collecting system (or dust removal system); It's also applicable to coal mill dust collecting, but would add any measures for fire explosion dust collector structure will change accordingly, can also be applicable to the high gas dust collecting dust concentration.
Structure of PPC Dust Collector
PPC series pulse bag filter are composed by the upper box, middle box, hopper box and ladder, platform, storage tanks, pulse valve, dragon frame, screw conveyor, discharge valve, electrical control cabinet, air compressor, etc. All parts are made according to the national standards. The wiring terminal location set according to the requirements of customers.
Dust collection box include: filter bag chamber, dust subside chamber, clean air chamber, perforated plate, filter bag, filter cages.
The design of bag filter will the 8000 pa pressure.
Blowing system: the main trachea, spray pipe, pulse valve, PLC controller, according to the nature of dust and working environment reasonably adjust the soot cleaning cycle and pulse injection time.
Ash hopper and ash discharge part: One is direct connection discharge valve, the other is ash hopper connected the discharge valve through the conveying equipment.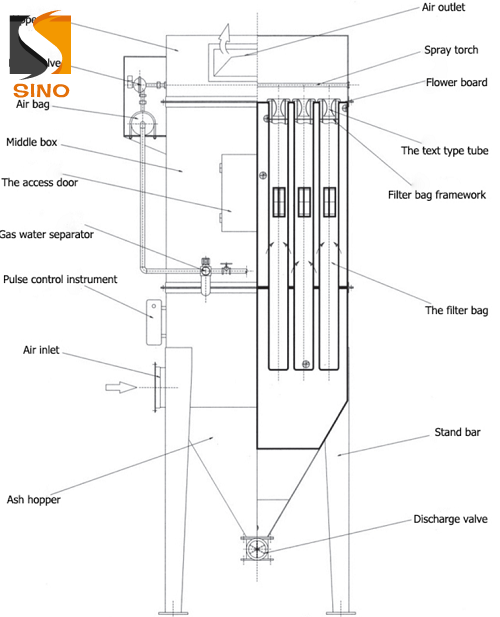 Working principle
Under the action of the main power fan, the dust gas enter into the dust subside chamber through air inlet. Dust gas is blocked flow board touch attack the airflow into the hopper. At the same time, air speed is slows down. Under the inertia and weight, the coarser particles directly into the dust discharge. Other light fine dust with air adsorb on the filter bag surface, the filtered clean gas through the filter bag into the box body and outlet.
The PPC filter main body is separated into several air tank. There is a cylinder on each side outlet piping for lift valve. When the bag filter work after one cycle, the ash removal controller gives the signal, the first recess lift valve closed to cut off the flow of gas, enclosure of pulse valve open, with more than 0.4 Mpa compressed air into the net gas chamber, clear dust on the filter bag; When this action is completed, the lift valve to open, the chamber begin to work again, and one by one according to the above procedure complete soot cleaning action.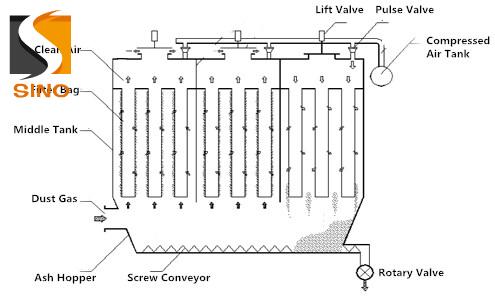 Features of PPC Dust Collector
· It has high efficiency in dust removal, especially for micro dust with a higher dust removal efficiency.
· It can capture the different nature of the dust with strong adaptability.
· It can be used flexibly, and dealing with air volume can be made of hundreds of cubic meters to hundreds of thousands of cubic meters per hour, it can be directly installed on the interior, machine nearby small unit, also can be large filter chamber.
· The equipment adopts a gas box-type structure to reduce the part resistance loss of equipment, and avoid the problem of being not convenient to install the filter bag.
· The electromagnetic pulse valve adopts a double diaphragm structure, has the advantages of sensitivity control, high efficiency, long service life, etc.

· Simple structure, stable operation, convenient maintenance operation.
Application Fields
1. The fume and smoke treatment and particle removing system in metallurgy plant, alloy plant, steel works, fire-retardant factories and power stations.
2. Fume filtration, tiny particle recycle and division of liquid and solid in aluminum electrolytic analysis, tin, zinc, cooper and other rare metals.
3. Smoke filtration in garbage burning, coal-feed boiler and liquidized laid boilers.
4. Division of liquid, solid and tiny particle recycle in chemicals, coke, carbon, dyestuff, pharmacy and plastics.
5. Asphalt concrete mixture, cements, ceramics, building materials, lime and plaster.
6. Dust treatment, purification and collection in electronics, mining, foodstuff processing, flour and timber processing.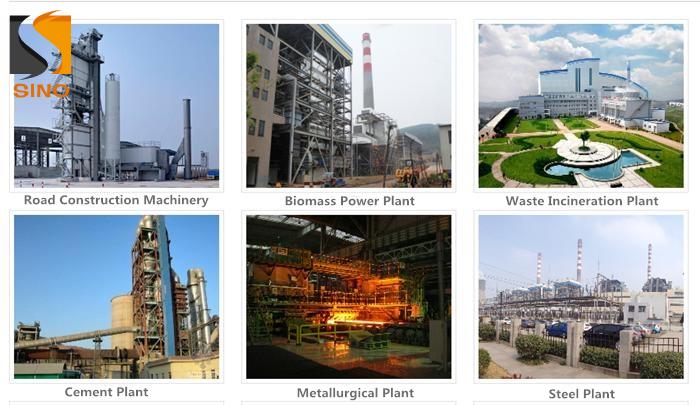 Products Specifications