Introduction of Pulse filter cartridge dust collector

The pulse filter cartridge dust collector is a portable dust removal device designed and developed by our company. This series of products has a small size, low running resistance, and good cleaning effect.
The dust collector is used in chemical and pharmaceutical, food processing, metallurgy, foundry, carbon materials, mechanical processing, building materials, and other industries. It is especially suitable for dust removal and purification of pharmaceutical production lines, tablet presses, granulators, mixers, batching, mixing, vibrating screens, pulverizers, weighing, and pre-capsule processing.
Structure of Pulse filter cartridge dust collector
The main structure of the filter cartridge dust collector is composed of a device body, a fan section, a filter section, a pulse cleaning section, a cone dust collector, and an electrical control device.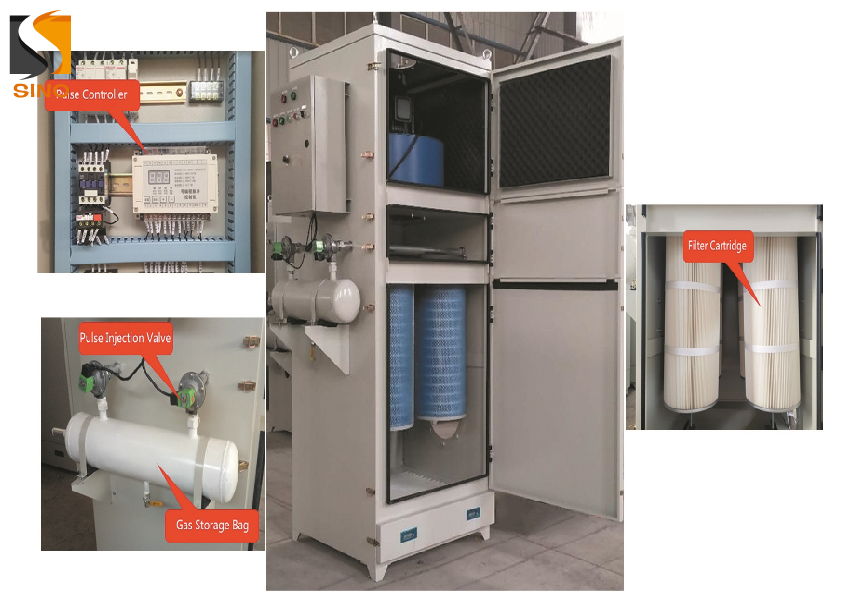 Working principle
When the dust-containing gas enters the filter chamber of the dust collector from the air inlet of the device, the dust is filtered by the filter cartridge and adheres to the surface of the filter.
The filtered clean gas enters the clean air chamber and is excluded from the machine by the induced draft fan.
The spray cleaning system at the top of the filter cartridge is periodically signaled by the PLC controller.
The pulse valve releases the compressed air, so that the dust adhering to the surface of the filter cartridge falls out of the filter cartridge and falls into the dust box, so as to reduce the running resistance of the system.
After all the filter cartridges have passed the cleaning cycle, the dust collector resumes the filtration state.
Features of Pulse filter cartridge dust collector
1. Low running resistance, energy-saving, and material saving.
2. Compact design, small footprint, and good installation space.
3. The filter cartridge has sub-micron filtration, high filtration precision, and a large filtration area.
4. The electromagnetic pulse is used for cleaning, and the compressed air is released instantaneously to blow off the dust, and the cleaning effect is good.
5. With pulse control, the cleaning time is adjustable, one button is activated/closed, and the operation is simple and convenient.
Products Specifications