Introduction of Welding Fume Extractor
The welding machine will produce a large number of harmful gases in the process, such as CO, CO2, SO2, H2S, lead smoke, and fluoride fumes, workers inhaling harmful gas for a long time, is of great harm to health, disability, or death. Therefore, the welding smoke governance increasingly aroused people's attention.
Our Welding Fume Extractor adopts high-efficiency filter cartridges as a filter element. The filter cartridges choose filter material is different from conventional filter material, the surface with a layer of PTFE membrane. Its tiny mesh can block most of the submicron dust particles. Submicron dust particles on the surface of filter material together block the dust layer, most of the dust particles will be blocked on the external surface of the filter material. It could not enter inside the filter material, under the purging of compressed air can effectively remove in time.
Structure of Welding Fume Extractor
Welding Fume Extractor main parts include: universal aspiration arm, high temperature resistant vacuum hose, suction hood (with air volume control valve), warfare, flame retardant high efficiency filter resistance, the pulse counter blowing device, pulse electromagnetic valve, pressure differential gauge, clean room, activated carbon filters, heavy ash drawer combination with the brakes, flame retardant, sound-absorbing cotton, with brake casters, fan, ABB motor and electric cabinet,blower, electric control systemetc.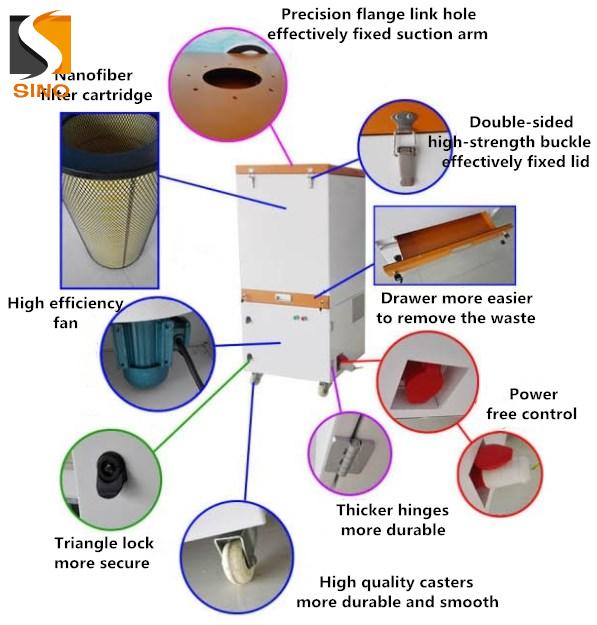 Working principle
Through centrifugal fan, the welding smoke comes into the exhaust inlet. The universal dust hood sets the flame arrester, the spark will be blocked by the flame arrester. Flue gas enters the settling chamber, by the action of gravity and updraft. Firstly, the coarse dust directly down to the bottom, particulate dust is captured on the outer surface of the filter element,clean gas filtered through the filter, from the filter center into the clean room, discharged from the air outlet.
Features of Welding Fume Extractor
· Process high density dust and dust with randomly
· A special imported ABB turbo fan and motor, use prevent motor burn out against overload circuits, high safety, stable work performance.
· The optional activity of universal arm can be move 360 degrees. It can suck the flue gas from the flue gas occurs, greatly improving the rate of dust collection, protect the health of workers.
· Clean air from the outlet grille direction even guide and dispersion, thus reduce the noise to the minimum.
· With the brakes with dedicated new universal casters, convenient move and positioning of the equipment.
Application Fields
It's applicable to industries those are easy to produce high density dust and dust with large particle sizes.
* Soldering, wave soldering, reflow soldering
* Laser welding, engraving, marking, cutting
* Grain processing
* Chemical laboratory
* Medical and beauty, etc.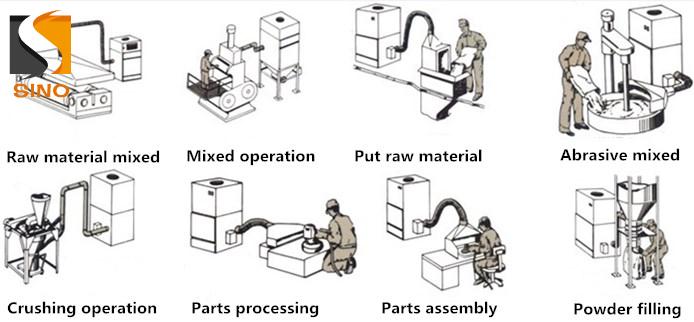 Products Show