Introduction of Electrical Exhaust Hose Reel

This type of electrical exhaust hose reel has one remote controller, you can push down the button to control this hose reel. And this type retractable hose reel, the length can choose.
All components and parts are made by die-casting of die-casting aluminum and plastic glass fiber materials, the integral structure is delicate, solid and reliable with elegant appearance, and suitable for installation and application repair shops, 4s service stations, and vehicle manufacturing shops.
Structure of Electrical Exhaust Hose Reel
Different fans and fixed modes can be selected for different workshops. Different nozzles and hoses can be selected for different vehicle exhaust pipe structures.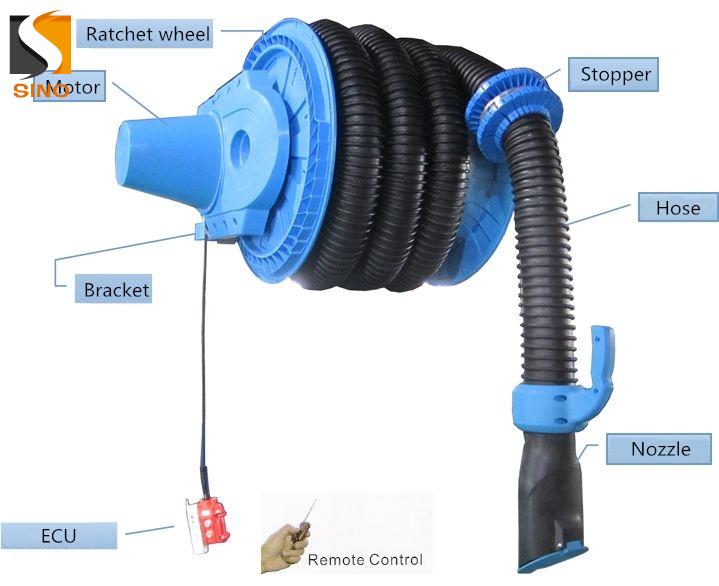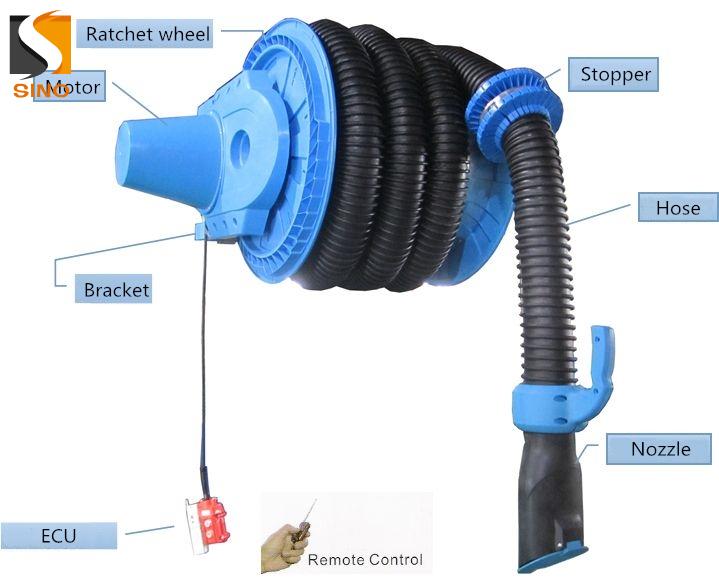 General Dimension Reference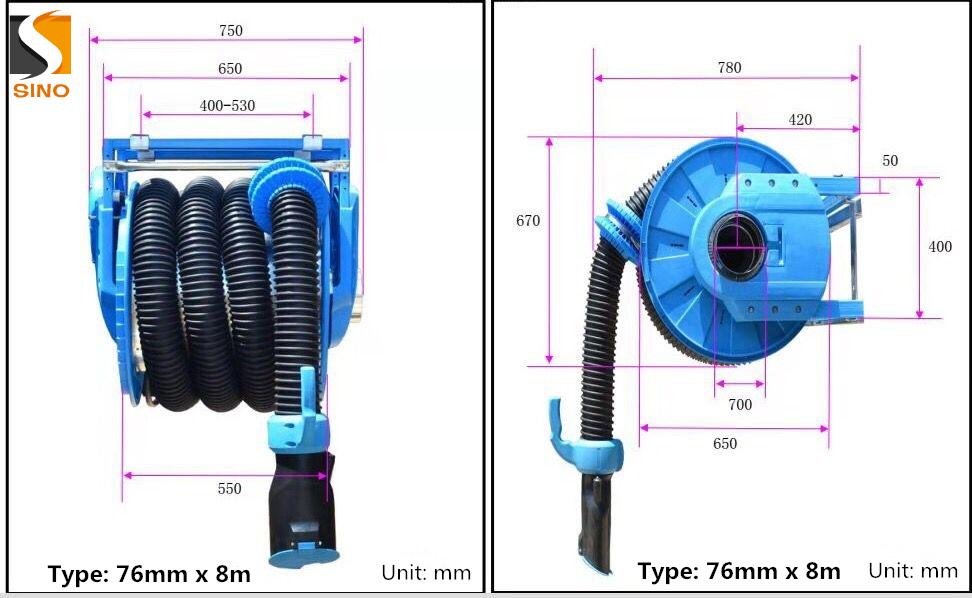 Working principle
Connect the automobile exhaust system to the automobile exhaust pipe, collect and filter the exhaust gas generated in the process of vehicle maintenance and discharge it to the outdoor after purification, effectively reduce the particulate matter and odor of automobile exhaust, protect the health of operators, and control the air pollution.
The exhaust gas passes through the exhaust pipe to the high-temperature-resistant rubber suction nozzle and then to the main pipe of aluminum alloy. Then it passes through the exhaust fan to the PVC pipe. Finally, the exhaust gas is discharged through the exhaust fan through the environmental protection treatment cabinet (including filter cotton and activated carbon).
The exhaust gas extraction system uses the blower as the pump source to generate strong negative pressure in the pipeline system. Through the high-temperature hose, the clamping suction nozzle is connected with the automobile drainage pipe to remove the exhaust gas generated by the automobile.
Features of Electrical Exhaust Hose Reel
1. Concise and practical
2. Automatic Locking Machine Locking
3. High-Temperature Resistant and Deformation Resistant Rubber Tube
4. Easy installation and debugging
5. The height setting is convenient and the operation is simple.
Products Specification

Installation Diagram